Launching NRGship FedEx for FileMaker
To get started with the application you will need to run the Windows or MacOS Plugin Installer and then you will be able open the files and set up for shipping.
NRGship FM Toolkit Plug-in Installer
Run our Mac and Windows installers on all workstations that will be running NRGship or the files that you integrate with NRGship. MAKE SURE THAT YOU QUIT FILEMAKER BEFORE YOU RUN THE INSTALLER.
The installer will install all required FileMaker plug-ins to your FileMaker application support folder and place thermal printer and scale helper apps into your applications folder to support thermal label output and USB weight capture.
Launch the Application
After you have run the installer, launch by opening NRGship FedEx Pro.fmp12 (or NRGship FedEx Pro.fp7 if you are using FileMaker 11)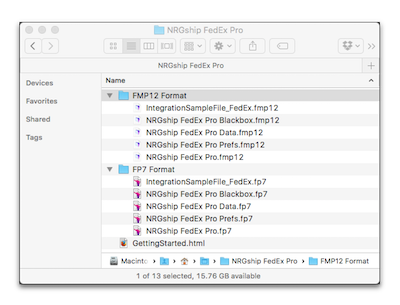 The preferences layout will automatically open when you launch the application for the first time.