Address Validation
NRG's Address Validation Service is an add-on, fee-based option for Ship Connect. Address Validation verifies that your shipping address is valid and whether it is a Commercial or Residential Address, ensuring proper delivery and avoiding any address correction charges from the carriers.



SETUP AND PREFERENCES
Enter your NRG Validation License Code under Address Validation Info in the NRG Ship Connect Preferences > Developer >Address Validation Tab. When the code is entered, the Validate button will be exposed and Address Validation will be activated.

Auto Validate Addresses - Check this box to automatically validate addresses as you enter them.
Halt Invalid PO Box, APO/FPO/DPO - Check this box to have NRG Ship Connect warn you against shipping to a PO Box or APO/FPO/DPO with the selected carrier and service.
NOTE: If you want to use the Skip Problems during batch shipping mode, located on the Shipping Automation > Batch Shipping Mode section, you must also check this box.
Display AV Dialog on Mis-Match - Check this box to have a box appear if address validation is going to change the city or state of the provided address. The box will allow you to accept or reject the address validation changes.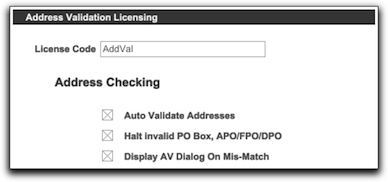 HOW IT WORKS
Whether you autovalidate or use the validate button, the address will be validated. You can get a number of responses.
1. Valid, Residential

2. Valid, Business

3. Invalid - Inexact address or Address Error

Inexact Address

If you click OK, the address will be left the way it is and be shown as a Valid address, allowing you to continue with your shipment. If you click Edit, you will be able to edit the address and validate again.
Address Error

Click OK and change the address information.