Managing Postage
On this screen you can manage your Endicia Label Server postage and manage some default settings for the USPS module.
The Manage Postage tab offers such functionality as viewing postage account balance, postage payment methods, account management, account settings and even a request a refund along with viewing your postage purchase history.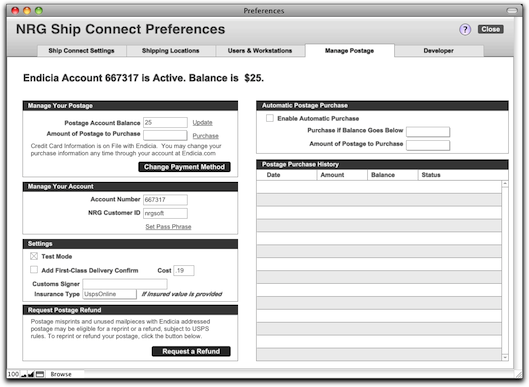 MANAGE YOUR POSTAGE
View your current account balance, purchase additional postage and also change your payment method through Endicia.com.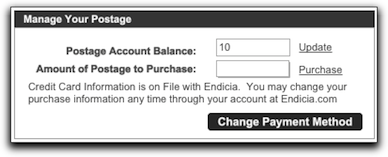 MANAGE YOUR ACCOUNT
This is setup by NRG when the files are prepared. Do not edit this information or USPS functionality can be disabled.

SETTINGS
A few settings can be entered for USPS shipping.

Test Mode should be used in testing. You will be able to create labels, but not use up postage.
Rating Adjustments: To add the Delivery Confirmation costs to your USPS rates, check the box and enter the USPS charge for delivery confirmation. This will only impact rating, not the results returned.
Customs Signer: You can enter your "Customs Signer" default if you are shipping a lot of international shipments via USPS.
Insurance type can be selected, your choices are USPS or Endicia Insurance.
NOTE: When using Endicia insurance the shipping rates returned when rating and post-shipment, will NOT include Endicia Insurance since it is billed to your Endicia Account at the end of the month.
REQUEST POSTAGE REFUND
You may be eligible for a refund, subject to USPS rules, if you have postage misprints or unused mail-pieces with postage.

AUTOMATIC POSTAGE PURCHASE
NRG Ship Connect supports automatic purchase postage based on the perimeters you set. Check the Enable Automatic Purchase checkbox and fill in the remaining fields. When the criteria is met, postage will automatically be purchased.

POSTAGE PURCHASE HISTORY
This view gives you a quick glance at your postage purchase history, including the date, amount, balance and status of each activity.