International Shipping with NRG Ship Connect
NRG Ship Connect supports international shipping and the creation of international customs forms.
This outline provides an overview of our international shipping services.




SHIPPING DOCUMENTS ONLY
If you are shipping documents in a UPS or FedEx Letter envelope, International documentation is not required. The description field and the checkbox "Documents Only" will be visible for shipments set to be delivered outside of the US. Add a brief description and check the box as shown below to prepare your shipping label.

PROVIDING YOUR OWN INTERNATIONAL DOCUMENTS
You can prepare your own international documents and still generate shipping labels. Enter in the declared value and description on the main shipment page. Then check the box on the International Tab that indicates you will preparing your own documents.

PREPARING INTERNATIONAL DOCUMENTS WITH NRG SHIP CONNECT
If you choose to use NRG Ship Connect to produce your documentation - the software will print out Commercial Invoices, NAFTA certificates of origin, SED and Certificate of origin statements.
Below is an outline of the different forms for International document preparation with NRG Ship Connect. Note that the "Adding Goods" section applies to all the form types.
A Commercial Invoice is used for all shipments containing non-documents. The Invoice is the primary document used for importation control, valuation, and duty determination. This document identifies the products being shipped.
Invoice should include:
Complete name and address information for both shipper and consignee.
Phone numbers for both shipper and consignee.
Terms of Sale (Incoterm).
Reason for Export.
Include a complete description of the item.
What is the item?
What is the item used for?
Harmonized Tariff Codes, if known.
Country of origin (where manufactured) for each commodity.
Number of units, unit value, and total value (purchase price) of each item.
Number of packages and total weight.
Shipper's signature and date.
A nominal or fair market value must be stated for items of no commercial value.
The NAFTA Certificate of Origin is used by Canada, Mexico, and the United States, including Puerto Rico, to determine if goods imported into their countries receive reduced or eliminated duty as specified by the North American Free Trade Agreement (NAFTA).
The NRG Ship Connect application is designed for goods whose origin is the U.S. or Puerto Rico only.
The NAFTA Certificate of Origin must be attached to an Invoice if the shipment is valued at greater than:
$1,000 USD and is being sent to a Mexican destination from Canada or the U.S.
$1,600 (Canadian dollars) and is being sent to a Canadian destination from Mexico or the U.S.
$2,500 USD and is being sent to a U.S. destination from Canada or Mexico.
Shipments valued at less than the above amounts do not require a NAFTA Certificate of Origin. Instead, the customer should type the following statement on the shipment's invoice:
"I hereby certify that the good covered by this shipment qualifies as an originating good for purposes of preferential tariff treatment under the NAFTA."

SED AND US CERTIFICATE OF ORIGIN - CO



Shipper's Export Declaration (SED) filing is generally required by the U.S. Census Bureau for U.S. exports that contain a single commodity's value exceeding US$2,500.00. All SED information is provided to the U.S. Census Bureau and is used for export compliance and governmental reporting.
The Additional International tab provides an area for additional information such as Ultimate Consignee, Forward Agent, Intermediate Consigne, Broker and such things as Ship Tax ID's and Payor Type, if different than the sender.

ADDING GOODS
In addition to the information required for each form, you'll have to add product information. You can add products using the "Add Goods" popup window. There are tabs on the window that outline what details you will need for each product based on the form(s) that you are preparing. For descriptions, simply roll over the labels of each field on the form to if you need assistance on what to enter. (see picture below).
You can save recurring product information in many of the fields so you don't have to look up the same information over and over again. An example would be saving the tarriff codes you use most frequently to the tarriff code pulldown menu.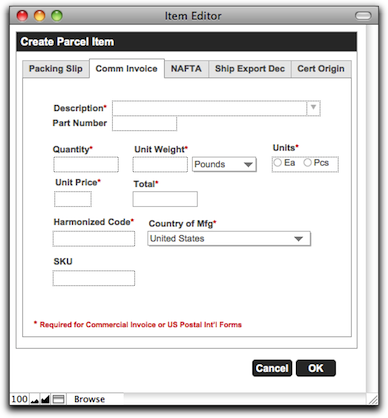 Once you've added the product detail - the product will be displayed in the list view on the main international page. At any time you can edit it by clicking on the row.