WooCommerce Integration
Integration with WooCommerce can be setup with NRGship Pro for UPS. To set this up, follow the steps below:


WOOCOMMERCE SETUP
In order to exchange shipping data you will need to first prepare WooCommerce to communicate with NRGship.
Step 1: Download the WooCommerce NRGship Plugin
Click the link below to download the Woo extension.
- NRGship for WooCommerce

Step 2: Install the Plugin
- Download/Save the plugin zip file to your local computer from the link above
- Within WP Admin, Go to Plugins > Add New > Upload
- Select the plugin zip file from your local computer
- Click Install Now Button
- Once install is complete, Click "Activate Plugin" link

Step 3: Configure the Plugin
Within WP Admin, go to WooCommerce > Settings > NRGship

- Enter a unique Username, Password and Key value in the fields provided. These are values outside the scope of your WordPress users and are used to authenticate NRGship against the plugin.

NOTE: It is highly recommended NOT to include any special characters for the username, password or key values. Special characters have been known to cause issues with downloading orders.
- We suggest that you check the box to log requests which can help in debugging
- Select the order status value(s) which you want to download. Values are dependent on your workflow. For instance, some orders are placed On-hold until processed by your card plugin.
- Select the shipping method(s) you want to download.
- Set a default order status which gets set after shipment. Normally this would be 'completed'.
- Press Save changes to complete your setup.

NRGship leverages and detects tracking fields provided by the WooCommerce Shipment Tracking Extension and Shipping Details for WooCommerce plugins. Upon shipment, the tracking number will be posted to the order and Woo email notification will be sent. See the third party plugin documentation for more information.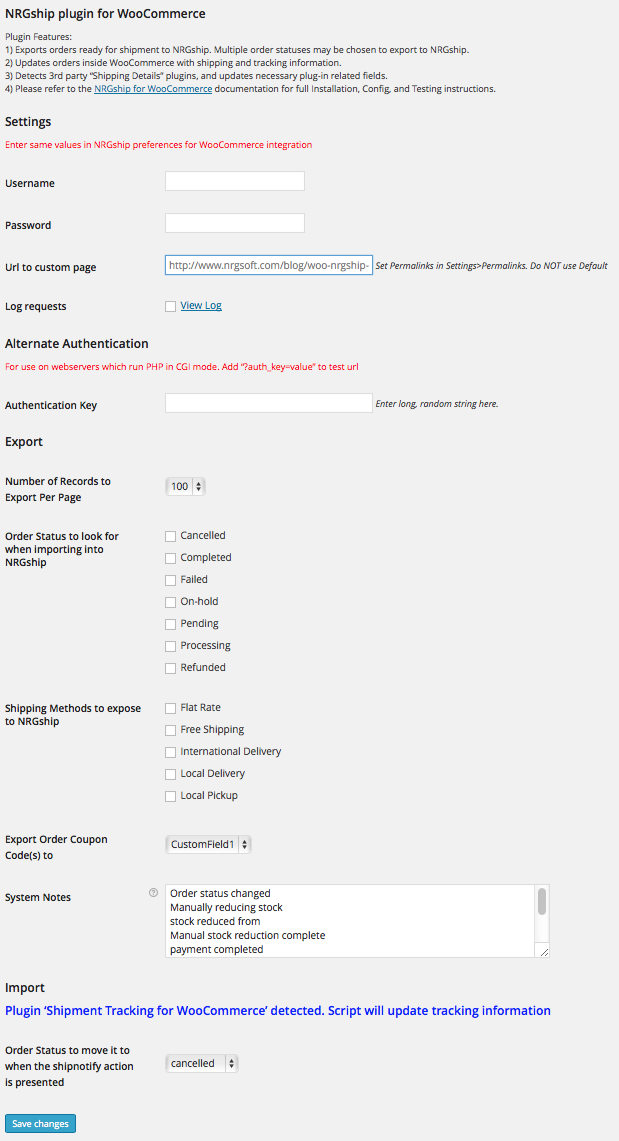 Step 4: Configure NRGship for WooCommerce
Note the Username, Password, URL and Key value from the NRGship plugin settings
- Open NRGship and go to the Automation/Integration settings
- Select WooCommerce from the Import Format popup
- Enter the Username, Password, URL and Key values
- Press the Test button to test connectivity to Woo
- Exit preferences
- Press the Get All button in NRGship to get all orders to download